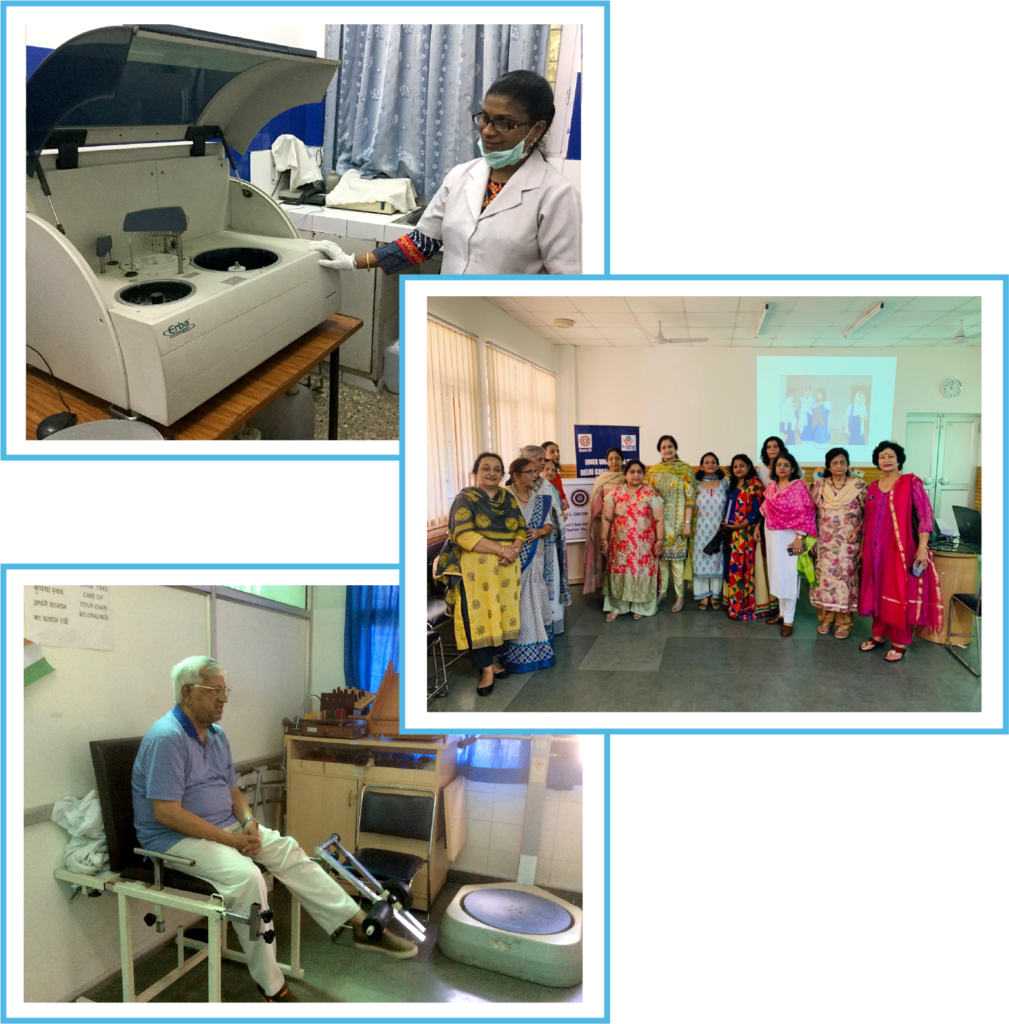 Humble beginnings can lead to great things and our Medical Centre is a fine example of this. In its early days, the centre was operated from a chaupal where doctors would treat patients and prescribe medicines. 
Gradually, as DCWA's volunteer base and their efforts increased, the chaupal made way for a sophisticated medical centre in 1986 in Zamrudpur. 
Treating over 80,000 patients each year, the medical centre has a team of well-known doctors and offers multiple specialities. The centre also organises periodic health camps as well as runs an outreach programme in the slums of Delhi and Gurgaon.
Days: Monday, Tuesday, Wednesday, Thursday, Friday, Saturday
Time: 9.30AM - 4:00PM
Doctors:Dr. Urmil Bareja, Dr. (Mrs.) Prem Mehta, Dr. Molly Kakkar, Dr. Mukherjee, Dr. S. Mehta, Dr. Ruby B, Dr. Aruna Sharma
Days: Monday, Tuesday, Wednesday, Thursday, Friday, Saturday
Time: 10:00AM - 12:00PM
Doctors: Dr. Raminder Singh, Dr. Anita Dhar, Dr. J. Mirchandani, Dr. Mamta Goel
Days: Monday, Tuesday, Wednesday, Thursday, Friday, Saturday
Time: 10:00AM - 12:00PM
Doctors: Dr. Vandana Prasad, Dr. Shashi Aggarwal, Dr. S.K. Bhatia, Dr. V. Chablani
Days: Monday, Wednesday, Friday
Time: 10:00AM - 12:00PM
Doctors:Dr. Ajay Kochhar
Days: Monday, Thursday
Time: 10:00AM - 12:00PM
Doctors: Dr. Mukul Aggarwal
Days: Monday, Tuesday, Wednesday, Thursday, Saturday
Time: 10:00AM - 12:00PM
Doctors: Dr. Shrikant Bansal, Dr. Kuldeep Singh
Days: Monday, Thursday, Friday, Saturday
Time: 10:00AM - 12:00PM
Doctors: Dr. Shroff, Dr. (Col.) M. L. Behal
Days: Tuesday
Time: 10:00AM - 12:00PM
Doctors: Dr. Yatinder Kharbanda
Days: Tuesday, Thursday, Saturday
Time: 10:00AM - 12:00PM
Doctors: Dr. P.M. Kapoor, Dr. Anita Singh
Days: Monday
Time: 10:30AM - 12:30PM
Doctors: Dr. Deepali Kapoor
Days: Monday, Tuesday, Wednesday, Thursday, Friday, Saturday
Time: 9.30AM - 4:00PM
Doctors:Dr. Prateek Sharma, Dr Anjali, Dr Amod Kumar Yadav
Days: Monday, Tuesday, Wednesday, Thursday, Friday, Saturday
Time: 10:00AM - 12:00PM
Doctors:Dr. Virmani, Dr. Kanchan Kataria, Dr. Prem, Dr. Anjali, Dr. Kanika Kanodia
Days: Tuesday, Wednesday,Friday ,Saturday
Time: 10:00AM - 12:00PM
Doctors: Dr. (Col.) R.B. Nanda, Dr. M. Gaiha, Dr. M.M. Sharma
Days: Wednesday
Time: 10:00AM - 12:00PM
Doctors: Dr. (Brig) Y.K.Arora
Days: Monday, Tuesday, Wednesday,Friday,Thursday, Friday
Time: 9:30AM - 12:30PM & 2:00PM - 4:00PM
Doctors: Dr. A. Kaushal, Dr. T Mittal, Dr. N. Gupta